Pennsylvania Work Injury Lawyer
Our workers' compensation lawyers handle the details so you can focus on healing.
A work injury is a medical condition or disease caused by an individual's job. The worker must have a condition or injury related to his or her employment and it may include pre-existing conditions that are irritated by a person's job, and occupational diseases. If you've sustained a work injury at a Pennsylvania job site, workers' compensation is one way to get help to pay medical expenses and obtain a good portion of your lost wages while you are off work recovering.
Approximately 173,267 work injuries were reported in Pennsylvania in 2018. However, only a total of 39,322 work injury petitions were filed. The highest number of injuries occurred in the transportation and utilities sector, with education and health services following closely behind.
The most frequent types of on the job injuries were sprains and strains. Approximately 30 percent of work injuries were caused by overexertion, while 26 percent were the result of being struck by something. Transportation accidents accounted for the largest number of deaths at 46.4 percent.
Fatal work injuries and accidents
The construction industry is the most dangerous for workers in terms of injury, with 300,000 injuries reported every year. Approximately 1,000 of those injuries are fatal. Men have a higher rate of workplace deaths than women, and Latino and Hispanic workers have a higher rate of workplace deaths due to working high-risk jobs.
In 2018, the farming, fishing and forestry industry saw a high rate of death at 22.8 fatalities per 100,000 workers. The transportation and material moving occupations followed with 15.0 deaths per 100,000. In the construction and extraction occupations in 2018, there were 12.2 deaths per 100,000 workers.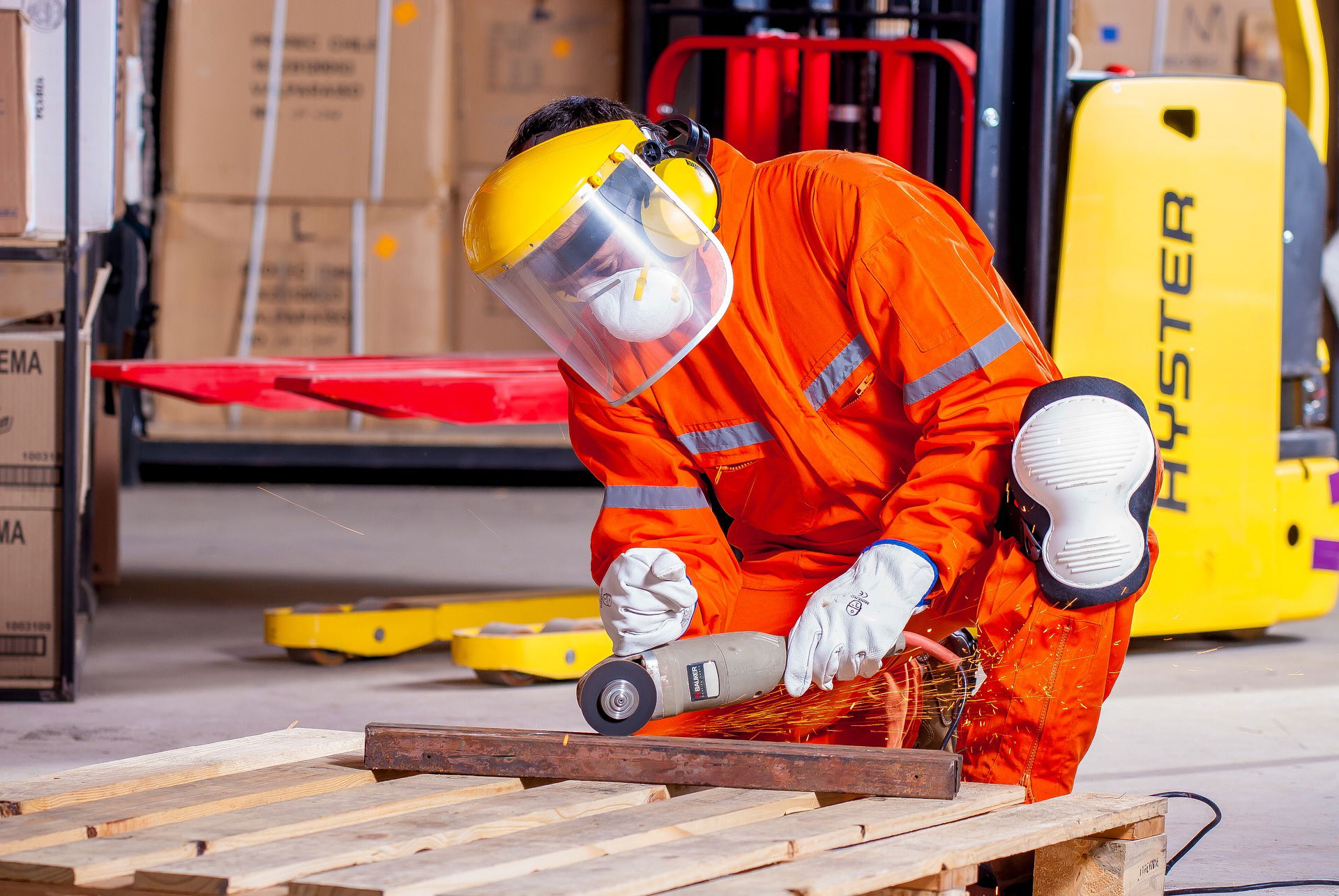 Workers' Compensation Benefits
You'll hear several things about workers' compensation, such as the employer is rooting for you and is on your side, that the insurance company is going to help you, so do not worry and, you do not need legal assistance with a workers' compensation claim. None of these common assurances is true.
For instance, while your employer may be conscientious, they must still pay attention to their bottom line. They strive to avoid expenses when they can, and workers' compensation, in the form of lost earnings and medical bills, is an expense. A claim may not always go as smoothly as it could if the employer decides to deny the claim or fight it.
Insurance Companies Are For-Profit Businesses
Claims that the insurance company will help are reassuring, but not accurate because insurance companies are businesses. They are in the business to make money, and they prefer to dismiss or deny claims. They may try to dispute that your accident happened at work or claim you were not following safety procedures. A workers' compensation attorney can help you with a situation like this.
In a perfect world, a workers' compensation claim would be filed, accepted without issues and compensation paid. Unfortunately, the workers' compensation system is very complex and complicated and things can go awry quickly. A workers' compensation attorney can help.
Types of Workers' Compensation Benefits
Temporary total disability (TTD) – paid while an employee cannot work after an injury. If disabled for more than 104 weeks, you may need an Impairment Rating Evaluation.
Partial Disability benefits (PDB) – paid if you are partially disabled or you can perform light-duty work but are not completely recovered.
Specific loss benefits (SLB) – refers to the loss of hearing, a body part, vision, or serious, permanent disfigurement to face, neck or head.
Medical expenses – this coverage includes vehicle modifications to accommodate your injuries and travel costs if you have to doctor in another location you qualify for reimbursement.
Death benefits – your heirs can be eligible for death benefits as part of your workers' compensation coverage. Payment must be made within 3 weeks of the injury and includes $3,000 in funeral costs.
Common Types of Work Injuries
Overexertion and over-extension injuries when pulling, lifting, pushing, holding, carrying, or throwing are some of the most common workplace injuries. Repetitive motion injuries like carpal tunnel syndrome or vision problems are also prevalent.
Factories and worksites where employees use heavy equipment can contribute to injuries from getting caught in a machine, walking into solid objects such as equipment, being struck by equipment or machinery and injuries sustained from being hit by a falling object.
Vehicle accidents where employees are driving for their employers qualify as work injuries as do injuries from assault by other workers, customers or suppliers.
Be aware of third-party claims that may arise due to the negligence of another company that shares a worksite with your employer.
What to do after a workplace injury
One of the first things you need to do after sustaining a work injury is to report it. Do not wait; notify your immediate supervisor and the manager. If you do not let them know or decide to file later, you may have your claim denied.
In most cases, you are going to need to see an approved workers' compensation doctor. In Pennsylvania, if there is a list of doctors posted where you work, you have to see one of them for the first 90 days of your injury. Do not ignore the doctor's list and see your own doctor because the employer then does not have to pay any medical bills until "after" the first 90 days of your work injury. If there is no list of doctors posted, you may see your own physician.
Report the Injury

You need a record of all the details right from the start. Even if you have weeks to file, do it as soon as possible. It only improves the chance of your claim being successful.

Seek medical care

Provide all relevant details to the doctor and indicate on the admission forms that you have been injured at work.

Document the injury

Document your injury or injuries extensively and get all the details entered into your medical record. Include date, time and place of your accident and what injury you sustained. Describe how it happened.

Ensure paperwork is filed

When you report a work injury, your employer should file what is referred to as a First Report of Occupational Injury form and send it to the Bureau of Workers' Compensation and their insurance company.
When a claim petition is filed, the petitioner goes before a judge to determine whether you should receive workers' compensation.
After a First Report of Occupational Injury form is sent, the clock starts running. The insurance company has three weeks to deny or accept the work injury claim. To get paid for the first 7 days you have lost income, you must be off work and under the care of a doctor for at least 14 days.
Your employer must deny or accept responsibility for your work injury. If they accept responsibility, you get a Notice of Compensation Payable and you may get temporary workers' comp payments for 90 days. If the employer denies the work injury claim, you receive a Notice of Compensation Denial. If you do receive this notice, you need to file a claim petition. File as soon as possible.
Work Injury Frequently Asked Questions
65+
Adults over 65
Have the highest workplace fatality and injury rates.
22%
22 percent of claims
Involve injuries to the lower extremities like the hips, legs, knees, ankles and feet.
18%
Roughly 18 percent
of deaths as a result of violence and other injuries from people or animals.
38%
38 percent of claims
Involve injuries to the upper extremities, the shoulders, arms, wrists, hands or fingers.
Some business owners do not always rigorously adhere to the rules and regulations governing workers' compensation insurance. In such cases, there are often legal issues that result in the need for a Petition to be filed to enforce injured workers' rights. This is why hiring a well-respected Erie workers' compensation attorney at Placidi, Parini, Grasinger & Page is the best option. If you are entitled to compensation, and there is an issue, an experienced attorney can ensure you get the compensation you deserve.