Erie personal injury lawyers. MP2 is there for you!
Like your lawyer. Love your results.
For decades, the Erie personal injury attorneys at Melaragno, Placidi & Parini have been serving their communities, representing individuals and families who have been injured or lost loved ones as a result of carelessness or negligence. We have over 70 years of combined legal experience in representing accident victims in automobile accidents, trucking and motorcycle accidents, premises liability cases, traumatic brain injury cases, dog bites and all personal injury matters.
99 Percent
We have a 99 percent success rate in personal injury matters.
When we take a case, we expect to be able to achieve a successful outcome. If you or a loved one has been injured, we can help you get the compensation you deserve.
10 Out of 10
We are respected by peers and industry leaders.
The lawyers have been selected by Super Lawyers on several occasions and are rated as 10 out of 10 by AVVO, an independent lawyer rating service.
For man injured by falling pipe
For plow driver struck by truck
For passenger injured in truck accident
Being seriously injured for any reason is devastating. You may have many questions for which you do not have answers.
Your questions deserve honest and complete answers. That is why you need an experienced personal injury attorney to provide guidance and get you fair and just compensation.
In successfully litigating hundreds of personal injury cases in Erie County, Crawford County and Warren County, the attorneys at Melaragno, Placidi & Parini have the knowledge, skills and perseverance needed to succeed in personal injury cases. With experience negotiating settlements and fighting in trials, the attorneys at Melaragno, Placidi & Parini have the know how, drive and experience to support you and your family through this difficult time.
01
Answer all questions
We will spend as much time as necessary with you and your family and make sure all your questions are answered in a compassionate way.
02
Collect evidence
We will collect and maintain any evidence of negligence of the defendant including photographs.
03
Contact witnesses
We will locate witnesses quickly and get recorded statements, so the information provided is as accurate as possible and no one forgets important facts.
04
Develop a plan
We will develop a plan of action to make sure that you receive the maximum compensation you are entitled to for your injuries and damages.
05
Reconstruct the accident
We will hire needed accident reconstruction experts to help prove the defendant was negligent.
06
Handle insurance companies
We will deal with the insurance companies and their lawyers and obtain medical records and reports from medical experts, if necessary.
07
Communicate
We will contact the negligent person or company and obtain insurance information.
08
Get compensation
We negotiate strongly with insurance companies for a fair settlement. If the case does not settle, we will take the case to trial and fight for your rights.
The lawyers at Melaragno, Placidi & Parini have been selected as a Top 10 Attorney for Client Satisfaction by the American Institute of Personal Injury Attorneys This is an honor awarded to attorneys demonstrating exceptional and outstanding client service. The lawyers have been selected by Super Lawyers on several occasions and are rated as 10 out of 10 by AVVO, an independent lawyer rating service.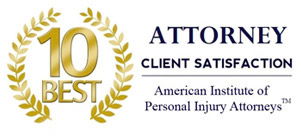 Melaragno, Placidi & Parini
We provide highly effective legal counsel geared toward securing real results for our clients.
The lawyers at Melaragno, Placidi & Parini have extensive trial experience having tried over 150 jury trials as lead counsel. One of the attorneys has worked for the insurance companies and knows how they investigate, review, evaluate and try to reduce your recovery. They have direct experience in maximizing your recovery.
The attorneys at Melaragno, Placidi & Parini have extensive experience handling multipe types of personal injury cases. Every case is different, as every injury is different. We have decades of combined experience in cases involving car accidents, motorcycle accidents, truck accidents, slip & fall accidents, wrongful death claims and dog bite injuries.
With more than 70 years of collective legal experience and an exceptional history of success, you can be confident in our ability to handle your case and produce maximum results.
Free Consultation
There is no downside to contacting us. If you have questions, we have answers. And it won't cost you a thing to get your questions answered. The initial consultation is free. We will take as long as necessary to determine whether you have the right to file a lawsuit to compensate you for your injuries.
Dealing with insurance companies after you have been seriously injured in an automobile accident can be stressful. Our aggressive team of lawyers helps tip the playing field, giving you an advantage.
Because these types of accidents are more complicated, it the best practice to hire an experienced Pennsylvania truck crash lawyer to fight for your rights and to get the compensation that you deserve.
A motorcycle is the deadliest type of road vehicle to use for travel. Motorcycle accidents are more likely to be deadly than accidents involving only passenger cars.
There is nothing more devastating than the wrongful death of a loved one. When someone's death is caused by the neglect act of another, arelative or representative may receive damages from the responsible party.
In Pennsylvania, property owners, especially businesses, are required by law to maintain a safe premise for the people that enter on their property.
When you are facing a criminal charge, no matter the severity, your freedom is on the line. You cannot afford to waste time; protect your job, protect your freedom, retain an experienced Erie, Pennsylvania criminal defense. lawyer.
Having an experienced personal injury lawyer on your side can make all the difference when pursing justice for yourself and your family.

Personal Injury Frequently Asked Questions